Capture the beauty of the world with your paint brush. Discover the secrets of how to paint luminous watercolor painting bold and free with great ease from 2 professional artists Chankerk and Uhky Uhky.
SPECIAL OFFERS THIS MONTH!
Perfect your watercolour skills at the best price.
S$48 only for first 20 pax (usual price S$150). Full instruction e-learning videos for 10 paintings, plus complimentary 185 mins essentials lessons. 6 months unlimited access for your revision.
Suitable for any level.
Learn at your own pace.
Complimentary essential lessons to build up your foundation.
Full instruction e-learning videos for 10 landscape paintings.
Easy to understand demonstrations from drawing, colour mixing, composition design to complete process step-by-step in real time.
Lessons conducted by 2 best professional artists Chankerk and Uhky Uhky.
6 months Unlimited access to HD videos lessons for revision.
How to Register
To register or for more info, email us at info@myartspace.com.sg.
Recommended Materials by artist
Click here to download material list.
---
What you will learn
E-learning Platform Demo
About the Instructor
Chankerk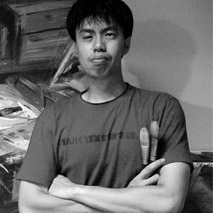 Chankerk has been a full-time professional artist since 2005. Chairman of Sentosa Artists Village (2001-2004), Chairman of Art critique group, Two Right Feet(TRF) (2003-2008), Founder of My Art Space, Chankerk has hold 8 solo exhibitions and 19 years experience in conducting various painting, oversea art tour, art appreciation, creativity and team bonding workshops for all walks of life at Singapore Art Museum, Nanyang Academy of Fine Art and many many more….
This intensive involvement has enabled him to develop an unique and creative learning philosophy, which allows participants to easily understand in-depth and abstract concept of art without feeling puzzled. Chankerk has become mentor for many emerging artists in Singapore.
Uhky Uhky
An architect turned artist famous for his "unpredictable but personal" style of simplifying his complicated subjects. Uhky uhky is versatile in various medium from watercolor , acrylic to oil painting. He is very active in regional art community and have been invited as jury in international art competition.
As an avid artist, simplification has always been the fundamental truth about Uhky's works-through manageable line works, sensible shades, shadows and unpretentious colors.
He honestly believe, with a little push and assistance from the start ,everyone will enjoy painting when you make things simpler and comprehensible. Having fun will enable you to explore and develop a process and style that will be very soon personal and unique.
Achilles "Uhky Uhky " Estremos is not only into painting. He has 26 over years experience with such multi disciplinary interior design groups in Singapore such as KKs International, Banyan Tree, Logam Designs, DBTA Intl., Tema Colleciones, Design Bube, and currently working full time with Silverfox Studios.