How learning art helps you age beautifully
There is an increasing amount of evidence about the positive impact of art on brain function and wellbeing as we age.
Dr. Barbara Bagan, PhD, in her article on art and ageing, writes, '…the imagination and creativity of older adults can flourish in later life, helping them to realize unique, unlived potentials, even when suffering from Alzheimer's or Parkinson's disease'. And that, 'Making art or even viewing art causes the brain to continue to reshape, adapt, and restructure, thus expanding the potential to increase brain reserve capacity'.
At home in Singapore, Andy Ho, an associate professor at NTU, conducted an 'Arts for Ageing Well' study, which showed that those who actively engaged in participatory arts experienced greater quality of life, spiritual well-being, meaning in life, and sense of peace, as compared with those who did not.
With a firm belief in the restorative and therapeutic effects of art on ageing, My Art Space, an art studio for art enthusiasts from all walks of life since 2005, created painting workshops dedicated to seniors. 
Ageing beautifully through art at My Art Space includes experiences such as:
Here are a few ways in which art learning can help improve employee wellbeing: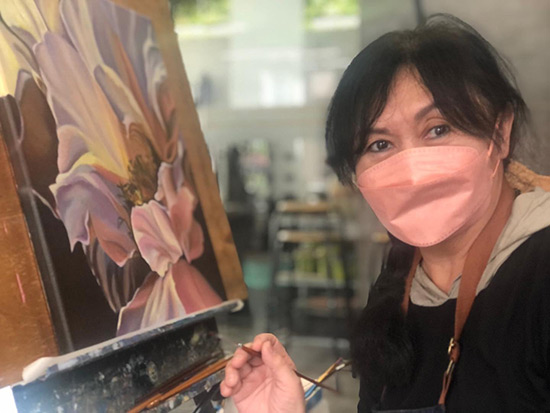 Spending time with likeminded people: A beautiful mind is developed by spending time reflecting on and contemplating beautiful things. Through the many years of running our art programs, our studio has brought together the most wonderful people. Those who look deeper and go further in a search for meaning. And these are the kind of people you can look forward to interacting with in our Seniors Painting Workshop.
Feeling the flow: When you lose yourself in the meditative study of light, colour and shadows, you experience a state of flow and the 2.5 hours you spend with us can sometimes feel like 2.5 minutes.
Rediscovering a sense of worth: Growing older can sometimes make us feel unproductive, without purpose, and impact our self-esteem. Through a non-judgemental and gentle approach, our experienced art teachers work to quietly reinstate a sense of self. We believe, the simple act of adding colour to canvas and creating something out of nothing, helps naturally increase serotonin levels.


Working towards wisdom: Erik Erickson, a world renowned psychoanalyst, proposed that all people go through a series of eight life stages, and that the last and final stage can lead to either despair or wisdom. By engaging in activities that are based in meaning, purpose, and honesty, seniors can shift the focus from despair to wisdom. With this is mind, our Senior Painting Workshop encourages seniors not only to create art but to use it to communicate their unique point of view, and their life experiences, with other learners.
If you would like to participate in My Art Space's Senior Painting Workshop, or know of someone who could benefit it, do get in touch with us here. There's a special 50% off offers for seniors aged 60 and above.
Our well acclaimed Art Exploration is exceptionally suitable for your employees!
Over 500 companies in Singapore have benefited from our art programs and we'd love to discuss how we can create an art escape that could reenergise your most important resource: Your people.
Our well acclaimed Art Exploration is exceptionally suitable for your employees!
Take your employees to the next level with creative art!
If this sounds like an avenue you'd like to explore for your employees, we'd be delighted to offer you special corporate rate up to 50% off for your employees.