My Art Journey
Total Life.Art.Style
Experience
We have various art programs that allow you to learn, appreciate and enjoy art.
Meet like minded people and pursue passion of art together.
Relax amidst various flora and fauna at prestige Istana Park.
Showcase your art, appreciate and understand art.
Great Learning
Philosophy
We provide personalised guidance that develop your art style in long term.
We have minimum 16 timeslots every week that allows you to choose according to your schedule.
Fulfill social responsibilities through our community art projects.
I used my art knowledge throughout my teaching career, helping to make my classrooms colourful with wall murals, and children's artworks.
Anjana Rajesh
Singaporean
Hi I am Anjana, I did my masters in Early Childhood Education and also have a bachelors degree in fine arts. For the past 11 years I have worked as an Early childhood teacher in Singapore. My nationality is Singaporean, my origins are Indian however I was born and brought up in Tanzania.
How did you get started in creating art and how does it enrich your life?
Art has always been a part of my life. I first became interested in art during my primary school years in Tanzania, where I remember painting peacocks and African landscapes. I continued my journey with art when I joined a fine arts college in India, where I completed my fine arts degree. Then I got married and moved to Singapore, and got interested in preschool teaching when my children were young. I enjoyed teaching young children and discovered that art could be very instrumental in preschools as children are able to understand pictures and drawings before they learn to read and write. I used my art knowledge throughout my teaching career, helping to make my classrooms colourful with wall murals, and children's artworks.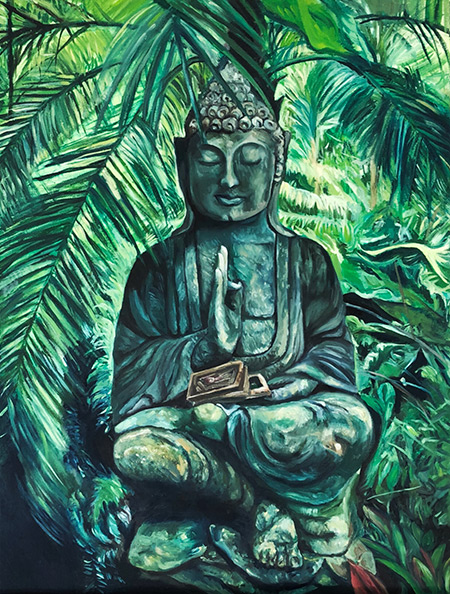 Please share on your learning experience and what you like about My Art Space
I took a break from teaching a couple of years ago and that was when I discovered My Art Space. My Art Space has truly enriched my life. I love to come here and get feedback from the wonderful Instructors and friends I have made here. I like the huge glass windows with sunlight which makes me feel as if I am painting outdoors. I have been coming to My Art Space for three years now and I feel a sense of freedom to paint whatever I like here. With encouragement from the Instructors I learnt to try new methods in oil painting. I have also recently began experimenting with watercolours.
What's your favourite artwork?
My favourite artworks are mostly impressionist of artists. I especially like art of Renoir and George Stubbs. I like Renoir because of the fine details and vibrant colours in many of his paintings of children and gardens. I like George Stubbs because of the beautiful paintings of horses.
What are you trying to communicate with your art?
The beauty of nature and animals. I love nature and find time spend in nature very healing to the body and mind. In the technologically dominated world, people are spending less time outdoors.
Tell us what plans you have for your art future?
In the future I hope to have an exhibition of all my paintings. I have also been thinking about teaching art to young children.
All rights reserved by the artist for all images of artwork, please do not duplicate or replicate without permission.
"NO HIDDEN AGENDA NO GOAL TO ACHIEVE WE DO ART AS IT IS AN ENJOYMENT A FULFILLMENT A PASSION OF THE SOUL"