My Art Journey
Total Life.Art.Style
Experience
We have various art programs that allow you to learn, appreciate and enjoy art.
Meet like minded people and pursue passion of art together.
Relax amidst various flora and fauna at prestige Istana Park.
Showcase your art, appreciate and understand art.
Great Learning
Philosophy
We provide personalised guidance that develop your art style in long term.
We have minimum 16 timeslots every week that allows you to choose according to your schedule.
Fulfill social responsibilities through our community art projects.
Art has helped me in my powers of observation and appreciation of the finer things in life and interacting with people and the world around us.  
Diane Chai
Tell us a little about you.
Diane Chai. 64 years old. Chinese heritage.
May we know a little about your family and cultural background?
I was born in Trinidad & Tobago until moving to Canada to study and work until marriage to my Singaporean husband.  My father moved from Hong Kong to Trinidad in the early 1950's where he met and married my Trinidad-born mother of Chinese-mixed heritage. Growing up in the West and  in the Caribbean, and having a father with very traditional Chinese values has molded my outlook and influenced the way I raise our children. They are also very familiar with the music, food, language and culture of their Caribbean roots.
What do you do for work and what do you enjoy about your job?
After working in Singapore for many years, I decided to become a stay-at-home mum (or "working for no material pay" as I would clarify) to devote my time to the family and in-laws who reside with us.  This enabled me to bond more with my sons as I chauffeured them to their school and extra-curricular activities.  I have also volunteered at church and organised fun art-jam sessions at my home for children of friends/family which was a win-win situation as I had the art materials to share. The fun sessions were most rewarding when I learnt that two of the children discovered their love for and went on to pursue art for a while.
What motivated you to learn art and when did your journey begin?
I don't ever recall a time when I didn't draw or create things.  In my youth I would make sketch or paint and used some of the images for personalised greeting cards.  So it was a natural progression that I selected Art as one of my O Level subjects.
What did you find the most challenging when you first started your art journey?
At school, I recall struggling with drawing figures. 
What is your biggest challenge today?
I would like to have a better understanding of the hues/tones/saturation of colours and applying that knowledge to my paintings.
How has learning art changed you as a person or the way you look at life?
It has helped me in my powers of observation and appreciation of the finer things in life and interacting with people and the world around us.  I feel art (in whatever form), music, literature and the humanities are necessities of life. I also find art journaling a meaningful way for reflection and meditation.
How has learning art improved your mental well-being?
Painting is for me, a "time-out and time for self".  To find time to pursue one's own interest is critical for personal metal health and well-being.
Joining My Art Space has given me the opportunity to build friendships, improve my painting techniques and afforded me the opportunity to participate in  overseas art trips all of which continue to be very enjoyable.
How would you define your personal style as an artist?
Always developing and exploring!
How does My Art Space help nurture your personal style?
I don't see myself having a personal style yet. MAS instructors are encouraging and with their guidance, I am still exploring what could one day be my style.
Tell us about one of your favourite artists and why you love their work.
No favourites, just many European artists from various periods of history – especially those that painted Renaissance art and biblical themes as these have helped me grow in my faith. 
At the same time, there are two American artists whose works I do enjoy viewing:  Edward Hopper, as I was first drawn to his lighthouses and seascapes themes, and Jackson Pollock for his abstract expressions.
Which is one of your favourite personal creations and why? Please share a picture.
Before my recent  "White Horse" painting, my favourite was the biggest painting I've created to date – "Abstraction in Water". It was also the first time I used gold leaf and loved it.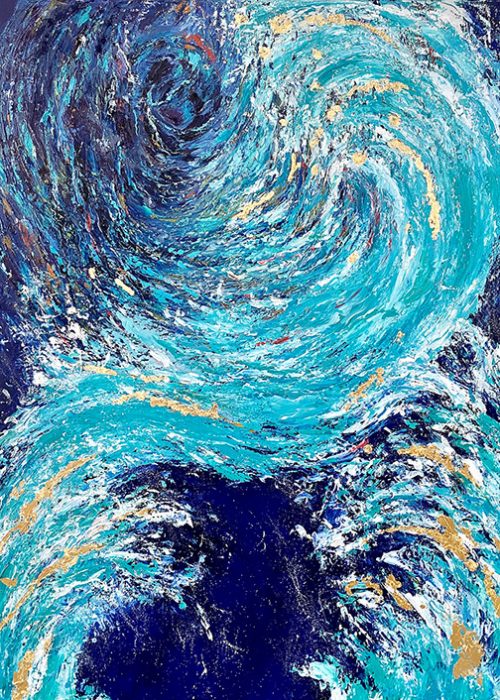 In your opinion, what is the role art plays in making the world a better place?
It is very important in appreciating the world around us and inevitably, people around us.
What advice would you give other artists to help them in their learning journey?
Just start by putting a line or a stroke on paper – with a pen, pencil or brush.  Some people would say "I'm not an artist" or "I can't paint".  I don't believe that to be true.  It's getting started and it's a continuous journey of learning and creation.
Anything else you would like to share?
One of the challenges in painting, especially on stretched canvas, is storage.  But I have found much joy in gifting my paintings to those who may have mentioned their love for one of my artworks. In giving back of my talents, I have contributing paintings to fund-raising events, primarily to churches and charitable causes.
All rights reserved by the artist for all images of artwork, please do not duplicate or replicate without permission.
"NO HIDDEN AGENDA NO GOAL TO ACHIEVE WE DO ART AS IT IS AN ENJOYMENT A FULFILLMENT A PASSION OF THE SOUL"