My Art Journey
Total Life.Art.Style
Experience
We have various art programs that allow you to learn, appreciate and enjoy art.
Meet like minded people and pursue passion of art together.
Relax amidst various flora and fauna at prestige Istana Park.
Showcase your art, appreciate and understand art.
Great Learning
Philosophy
We provide personalised guidance that develop your art style in long term.
We have minimum 16 timeslots every week that allows you to choose according to your schedule.
Fulfill social responsibilities through our community art projects.
I feel the happiest when I am in an artist's studio…it feels like I am in a wonderland.
Doina Ilies
Doina Andreea Ilies, unemployed at this time (former architect and interior design college instructor), Romanian & naturalized American.
How did you get started in creating art and how does it enrich your life?
I had discovered my love and interest in arts as I was working on my doctoral thesis at National University of Singapore on aesthetic awareness in architectural education. By researching how artists are aesthetically trained and comparing it to how architects are trained to recognize and create beauty, I became very much interested in art and started experimenting with various mediums. It is all about a new way of seeing and to this day I keep discovering new ways of seeing and observing what surrounds me.
Another reason why I started being more interested in art is because I finally realized that I feel the happiest when I am in an artist's studio. When I am in an artist's studio it feels like I am in a wonderland. Even when I travel, I try to rent Airbnb places that belong to artists if I can, or places that have art displayed inside. It so happened that I became friends with an Iranian artist in Milano (Painting and Design Apartment Sharing – Mahmoud Saleh Mohammadi) and got to know an Italian artist in Napoli (La casa del Pittore – Fabrizio).
Please share on your learning experience and what you like about My Art Space
My Art Space is the place where I feel most inspired to paint. The studio is quiet, and the location is absolutely amazing with the soothing fountain and nature nearby. I have received guidance that is well suited for me and I liked all instructors so far; however, Chankerk's guidance and encouragement is what motivates me most. His passion and pedagogical skills make him a great mentor in my opinion. I did not know that I can paint before I came here, but now I had learned many techniques and I am able to paint quite well. Not perfect, but with each day I get better and my creativity comes to the surface.
Prior to coming to My Art Space, I participated in various short workshops conducted by artists: Raku ceramics with Delia Prvacki, soft pastel painting with Ravi Abraham and Priya Kainikara Sharma, watercolour painting with Jalon (The Unconventional Artist) and I also tried some ink painting on my own. Although I enjoyed the workshops, I did not continue the techniques learned after that. It was only when I joined My Art Space that I started to work consistently on paintings, first in acrylic and now in oil paints. This is why I very much cherish the day I first stepped into the My Art Space studio.
What's your favourite artwork?
Previously I was fascinated by surrealist art and especially by Salvador Dali's paintings and drawings. However, lately my preference shifted towards Gustav Klimt's paintings. I find the details, colours, the flowing composition and sensual subjects exceptional.
What are you trying to communicate with your art?
Through my art I am communicating my love for nature and the effect that it has on me. Flowers are one of my favourite subjects, however, lately I moved into abstract painting. My background in architecture along with my doctoral studies brought me to a point where I am always questioning how man-made environments connect with nature, and from there my mind wonders around all the way into the molecules and inner textures of things, and back to the outside appearance. An intriguing mix of geometric elements and natural makings is what I am bringing onto my canvas.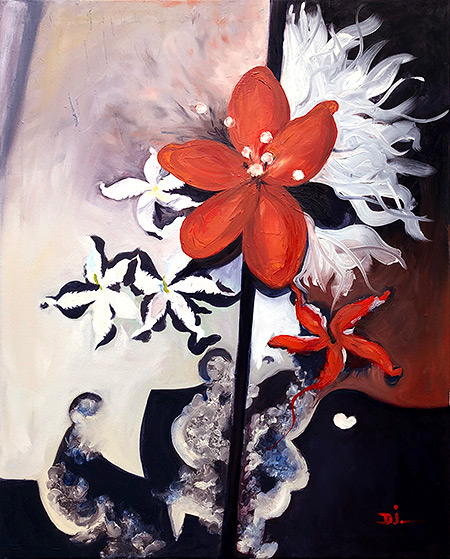 Tell us what plans you have for your art future?
I plan to paint more and to have an exhibition of my abstract paintings as soon as I have enough works ready to show.
To see works by Doina click here.
All rights reserved by the artist for all images of artwork, please do not duplicate or replicate without permission.
"NO HIDDEN AGENDA NO GOAL TO ACHIEVE WE DO ART AS IT IS AN ENJOYMENT A FULFILLMENT A PASSION OF THE SOUL"