My Art Journey
Total Life.Art.Style
Experience
We have various art programs that allow you to learn, appreciate and enjoy art.
Meet like minded people and pursue passion of art together.
Relax amidst various flora and fauna at prestige Istana Park.
Showcase your art, appreciate and understand art.
Great Learning
Philosophy
We provide personalised guidance that develop your art style in long term.
We have minimum 16 timeslots every week that allows you to choose according to your schedule.
Fulfill social responsibilities through our community art projects.
In my painting world, I get to be the magician that creates my world of fantasies.
Jen Koh
Hospitality Interior Consultant, Singaporean
My name is Jen Koh, Singaporean. I am trained as a product/industrial designer, to interior consultant specialized in hospitality design, working previously for international design firm (Award winning hotels worldwide). I received my bachelor degree in built environment, majoring in interior architecture from University of Western Sydney. Since young, I have been active teaching & engaging as an art volunteer for community outreach for less privileged children and elderly (during school days I am Chairman of Social Services and Chairman of Art Club).
As a designer, I have been working on commissioning artwork & interior project for my clients based on design brief, develop detailed designs that are appropriate, functional and aesthetically pleasing.
How did you get started in creating art and how does it enrich your life?
Since young I have always love to draw, dream & doodle. I always find it therapeutic and calming – creating, exploring & experimenting my art pieces. In my painting world, I get to be the magician that creates my world of fantasies (sometimes I get the fun to laugh about little things that life experiences I been through, these experiences sometimes trigger the inspirations of my art work). Painting every strokes using different techniques, choosing the right color to express the dark and light shades of my painting compositions were also part of my fun learning process. Sometimes I made mistakes along the way, but I can always correct it to perfection at my own pace. Able to express my own thoughts process through my art work brings a lot of joy and fun for me.
Please share on your learning experience and what you like about My Art Space
As an experimental artist, I love to explore with colors and different styles (watercolor, ink, pastels, charcoal, acrylic, Chinese painting, mixed media etc.) My dream is to bring hope & joy through my artwork to others.
Best part to paint in My Art Space is that I get professional inputs on techniques, exchanges of ideas, perspectives through discussion with experience artists like Chankerk, Shan, Matt and other artists. Painting in the studio also disciplines me to stay focus and concentrate to paint long hours when I have the time. It has become part of my own mindfulness practice too.
What's your favourite artwork?
Currently, I play with warm and cool colors to create the "Dawn to Dusk of Singapore cityscapes" the painting has to be seen from left (the rising of morning sun) to right (beautiful night scenery of Singapore cityscapes). Turn the painting 180 degree around – The reflection of the 3-dimensional buildings transform the sunny island into the futuristic city, as a global financial center with a multicultural population living in the enchanting garden city.
What are you trying to communicate with your art?
I want to bring hope, joy and happiness to the people that view my paintings 🙂 A picture speaks a thousand words, I hope my paintings connect with you too. These two years I managed to sell my paintings to friends who love to collect my paintings, also through some charity events to raise funds for patients. This is something I find fulfilling in painting.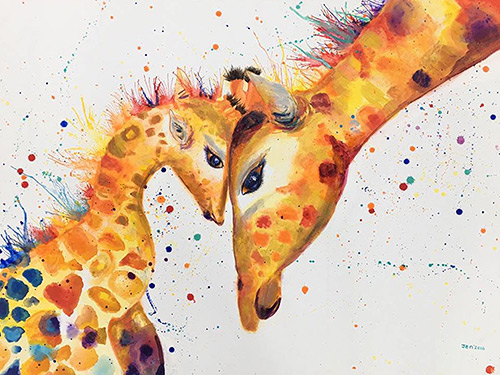 Tell us what plans you have for your art future?
I hope to donate my paintings to Sengkang Hospital for patient fronting area and also to participate in more charity art exhibitions to raise funds for the less fortunate children and patients.
To see works by Jen click here.
All rights reserved by the artist for all images of artwork, please do not duplicate or replicate without permission.
"NO HIDDEN AGENDA NO GOAL TO ACHIEVE WE DO ART AS IT IS AN ENJOYMENT A FULFILLMENT A PASSION OF THE SOUL"