My Art
Journey
Total Life.Art.Style
Experience
We have various art programs that allow you to learn, appreciate and enjoy art.
Meet like minded people and pursue passion of art together.
Relax amidst various flora and fauna at prestige Istana Park.
Showcase your art, appreciate and understand art.
Great Learning
Philosophy
We provide personalised guidance that develop your art style in long term.
We have minimum 16 timeslots every week that allows you to choose according to your schedule.
Fulfill social responsibilities through our community art projects.
I love to experiment with different styles and colours, especially fluorescent colours. It feels dangerous, bold and strong. My paintings reflect my emotions and inner self.
Ong Ai Ghee
I was born and raised in Singapore, and also lived for several years in China and the United States. I was pursuing my masters in International Relations there and I came back around sometime in late 2011 after working as a think-tank researcher in Washington DC. I am currently working in property management and development. It's a family business. I often tell people that working for family is easy and tough at the same time. On one hand, I have tons of flexibility in this job but on the other, the responsibilities are vastly heavier. My formative years in Singapore were rather typical like most Singaporeans where my primary focus was getting good grades and subsequently into good schools and jobs. My perspectives changed when I left Singapore and got out of my comfort zone. Looking back, my life path wasn't linear and my trajectory didn't make sense to most people but I kind of like the randomness of it all.
How did you get started in creating art and how does it enrich your life?
I took art as an 'O' levels subject when I was studying in Dunman High School. I remembering not finding art difficult at all. But I remember once I was asked by my Dad if I thought I had talent in art, I simply couldn't find the confidence in answering him at all. I guess it's one of the growing pains and insecurity as a teenager, figured that I should do what I thought was expected of me, gave up art after 'O' levels — went into full-science stream for 'A' levels. The two years in junior college was rather painful and pretty much miserable. I was like a square peg forcing myself into a round hole. Looking back, I wished I have stuck with my guts and pursued art as a subject for my 'A' levels. At least there would have been a creative outlet for my teenage angst and struggles. Getting reacquainted with art after such a long break definitely feels like it's meant to be there and I do plan to stick with it this time round.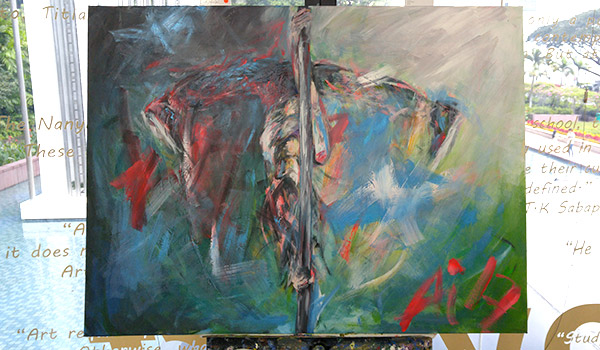 Please share on your learning experience and what you like about My Art Space
Fast forwarding to the time when I came back to Singapore after being away for some 6 years, I didn't quite have the social networks since I was away for a long time. My social calendar was virtually empty, and I decided I need to fill it up. Given that I can be rather introverted but also enjoy having some form of low pressure social contact, I figured painting at a studio actually works for me. I get to paint by myself amongst other people, and I don't really need to make conversations if I don't want to. I find that most people are really nice and friendly and I could make random conversations with people about their artwork, without even knowing their names!
When I get frustrated at my progress or get into a serious case of painter's block, I would walk around the studio checking out other people's paintings or grab some coffee and food at the cafe to decompress. The experience is really chill.
As for the instructors, they are accessible and non-judgemental. They know when the right time to offer their opinions and assistance is, without being too intrusive with your creative process. My experience while doing art in (secondary) school was that I found it very prescriptive and formulaic — meaning that the instructors would want you to do it in a certain way in order to get the grades. In contrast, painting at My Art Space has no such pressures, and you are gently encouraged to get out of your comfort zone and push your boundaries.
What's your favourite artwork?
My favourite artwork is the one that I am currently working on. It is titled "I am Trumpmendous" and it a satirical portrait of the current U.S. president Donald Trump. My artwork has the tendency to juxtapose my own personal interests and various aspects of my life together. For instance, I also do pole dancing and have attempted to the subject that into my paintings. "I am Trumpmendous" is my first attempt at combining both politics and painting together. As I've mentioned earlier, I left my interest in politics after returning to Singapore. However the last U.S. election was so undeniably heated that I couldn't help getting sucked back in. Trump is such a controversial figure that I cannot help having very strong feelings towards him. These strong feelings, I am afraid, aren't very positive. This is reflected in my painting of him … his arrogant squint, his signature smirk and the overall pompousness. The colours — blue, yellow and red — I've chosen are also very deliberate. They are the colour palette of the Disney character Pinocchio. And there is a subtle symbolism to it which I shall not delve too much into it here because arm-chair political discussions should best be enjoyed over a cup of coffee face-to-face. The result of this painting is actually quite captivating and it's the first time I experienced the feeling of "I-love-this-painting-but-really-dislike-the-subject" for a piece of work that I am doing. The feeling makes me uncomfortable yet I like it at the same for it challenges my sensibilities.
I don't have a preset idea of how the artwork is going to end up. It's still a work-in-progress. And I do know the next one I will likely be painting Vladimir Putin and who knows, Kim Jung Un, as a continuation of my political painting series.
What are you trying to communicate with your art?
I love to experiment with different styles and colours, especially fluorescent colours. It feels dangerous, bold and strong. My paintings reflect my emotions and inner self. Many people have said that I don't look like my paintings — I generally wear neutral colours and don't like to bring attention to myself. I guess, the saying is right — you can never judge a book by its cover. My painting style also seems really random at times. But the truth is, there's an order in the chaos. It is how people would have perceived me if they don't know me well. By scrubbing my surface, most people would have felt that my life is rather random and have no clear trajectory at all. However, every major decision I've made have a sense of direction and rationale behind it.
Tell us what plans you have for your art future?
Maybe one day in the future I can be a multi-hyphenated world famous painter-pole-dancer-political-scientist (not necessary in that order). Just kidding. I really don't need to be world famous. Anyway, baby steps first.I have recently created an instagram account for my artwork. I've been with My Art Space since 2013, and I've completed a lot of pieces of artwork. Not all of my artwork is on Instagram though, just too many pieces are lying around all over the place on floors, stacked against the walls. I would like to sell some of my works some day but the dilemma is that I have grown to be too attached to my paintings. I will explore commissioning work. Actually I have been toying with the idea of converting an empty space (about 1500 sq feet) where my office is currently located (somewhere in Bugis) to be a temporary or pop-up art exhibition space. The space is currently in a bare state and I thought that with a little sprucing up, it can be a good space for amateur painters like us who have tons of paintings lying at home to have a space to exhibit their artwork for a week or so, whether just to show their family and friends what they are doing or just maybe trying their hand at selling their paintings. So, anyone interested in working on this idea can feel free to get in touch with me to brainstorm!
To see works by Ong Ai Ghee click here.
All rights reserved by the artist for all images of artwork, please do not duplicate or replicate without permission.
"NO HIDDEN AGENDA NO GOAL TO ACHIEVE WE DO ART AS IT IS AN ENJOYMENT A FULFILLMENT A PASSION OF THE SOUL"