All Our Instructors Are Professional Trained Artists. We Strive To Give You The Best Art Training. We Deny Rigid Formula And Craftmanship Of Art. We Recognize Each Individual Is Different And Assist You Develop The Techniques, Method And Styles That Suit You The Best In Long Term.
OUR
INSTRUCTORS
Total Life.Art.Style
Experience
We have various art programs that allow you to learn, appreciate and enjoy art.
Meet like minded people and pursue passion of art together.
Relax amidst various flora and fauna at prestige Istana Park.
Showcase your art, appreciate and understand art.
Great Learning
Philosophy
We provide personalised guidance that develop your art style in long term.
We have minimum 16 timeslots every week that allows you to choose according to your schedule.
Fulfill social responsibilities through our community art projects.
Affordable artworks straight from studio.
Chankerk has been a full-time professional artist since 2005. Chairman of Sentosa Artists Village (2001-2004), Chairman of Art critique group, Two Right Feet(TRF) (2003-2008), Founder of My Art Space, Chankerk has hold 8 solo exhibitions and 19 years experience in conducting various painting, oversea art tour, art appreciation, creativity and team bonding workshops for all walks of life at Singapore Art Museum, Nanyang Academy of Fine Art and many many more….
This intensive involvement has enabled him to develop an unique and creative learning philosophy, which allows participants to easily understand in-depth and abstract concept of art without feeling puzzled. Chankerk has become mentor for many emerging artists in Singapore.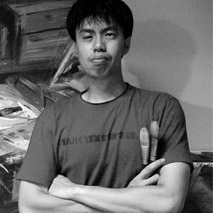 Since graduating from the Nanyang Academy of Fine Arts in 1988, Yeow Heng is a full time Artist and Art educator , Yeow sees no boundary of art. He has extended his playroom of creativity from design, arts, illustration to fine arts. He spent a decade in the advertising world, familiarizing himself with corporate skills and branding. He created an animated series of Mascots for the Singapore National Day Parade in 1997. The creator of SpaceSpore a designer toy, launched island wide in 2003, exclusively partnered 77th Street, Mobileone (M1) and Hard Rock(S). 2004-2006 he created a toy's system called Nik Tak Twist and received numerous of design patents internationally.
Award winning professional artist, graduate from Nanyang Academy of Fine Arts in 1996 and from the University of Central England in Birmingham with BA (Hons) in 2001. Experienced creative workshop instructor. Ping Ping is versatile in using different mediums like oil, acrylic, charcoal, pencil and mixed medium. Her professional training in both Fine Art and Interior Design has provided Ping Ping a solid ability in handling both space and abstract patterns of her paintings. Her painting style incorporates bold and decisive painting knife strokes with delicate pattern and colors.
An architect turned artist famous for his "unpredictable but personal" style of simplifying the layers of each of his complicated urban landscape. His unmistakable atmospheric artwork that resonates simplicity in his interpretation of light – effectively as an impression of what he sees and paints defines his works.
Born in 1966, Malaysia.
Came to Singapore in the '80s. Graduated with a diploma in fine arts from Nanyang Academy of Fine Arts in 1994 and M.A. from the University of Central England in Birmingham U.K. in 1997.
A versatile artist who works with various mediums and techniques. His paintings are exceptional marked by his distinctive ability to blend the beauty of classical painting style in his creation of contemporary art pieces.
He is life member of The Society Chinese Artist, Lanting Art Society and Nanyang Academy of Fine Arts Alumni Association. His paintings are collected by local and overseas hotels, corporate and private collectors.
Obtained her Diploma of Fine Arts in 1994, and her Certificate in Printmaking in 1998, both from the Nanyang Academy of Fine Arts. In 2002, she obtained her BA in Fine Arts and Diploma in Printmaking from the Utrecht School of the Arts in the Netherlands.
She was Highly Commended in the 16th, 17th and 18th UOB Painting of the Year competitions, and selected for the Tokyo International Mini-Print Triennial in 1998.
Sok Han's career as an artist took an unconventional pathway. While she always had a deep love and passion for drawing as a child, her life led her to a career in marketing and advertising instead. After a few years in the corporate world, the art world summoned again and she joined a part time course in charcoal and oil painting at NAFA. Eventually, she found an art studio opposite her office, where she honed her talent with still life oil painting.