A TRULY ART EXPERIENCE
My Art Adventure Club
Total Life.Art.Style
Experience
We have various art programs that allow you to learn, appreciate and enjoy art.
Meet like minded people and pursue passion of art together.
Relax amidst various flora and fauna at prestige Istana Park.
Showcase your art, appreciate and understand art.
Great Learning
Philosophy
We provide personalised guidance that develop your art style in long term.
We have minimum 16 timeslots every week that allows you to choose according to your schedule.
Fulfill social responsibilities through our community art projects.
Affordable artworks straight from studio.
Imagine sitting with your sketchbook on the lap, the sun warming your back as you admire and capture the spectacular urban scenery or natural landscape before you with your paintbrush. Sketching on the spot has been proven as one of the best ways to stimulate your artistic sensitivity through direct interaction with various wonders of nature, culture, heritage and local community. Come and join our series of local or oversea outdoor art excursion conducted by regional established artist Chankerk. Suitable for all levels! With the company of artist, learn the easiest to pick up techniques, capture the most beautiful scene , taste the most authentic local delights, forge the warmest friendship and feel the deepest experience . You will definitely get to enjoy a very unique, artistic and memorable experience as a real artist.
Chankerk is a renowned artist who has 25 years of experience of various art adventure in all parts of world from nostalgic Malaysia's small towns, historical India , cultural Europe to mysterious Bhutan.
🎨 Join My Art Adventure Club now to get a free pre-excursion sketching workshop for your first art adventure with Chankerk. As a member, you'll get exclusive updates about our upcoming art excursions, workshops, and events.
Register here to join My Art Adventure Club
26-28 July (Tue-Thu), 3 days 2 nights. 
Fee: $350 per pax. Free Travel Sketching Workshop for first 3 registrant and members (u.p S$100)
Inclusive of artist quality sketch block and rental of in-house watercolour materials, full guidance from artist, private suv transport from Singapore and assistance on meals and accommodation arrangement. Excluding personal expenses like visa, insurance, meals, accommodation and entrance fee if applicable.
Wonderful opportunity for art enthusiasts to explore Bali's beautiful locations, immerse yourself in the local culture, and pick up your sketching skills with the guidance of local expert artist Chankerk.
Discover the hidden germs of Bali Island from majestic palace, ancient village , bygone era historical site, Panoramic view fishing village , burstling local market, tranquil green paddy field, awe-aspiring volcanic crater and many many more…
Dates:
12-16 Nov 23
17-21 Dec 23
7-11 Apr 24
Fee: $500 (u.p $550) for members and first 3 registrants.
Discover the charm of various nostalgic small towns in South Malaysia with your sketch pen. Perfect match of sketching workshop and travel for art-lovers of any level wish to explore various off-trail beautiful corners, feel the warmest friendship of close-knit neighborhood, taste the authentic hand brewed coffee and local delights.
Various Malaysia Art Excursions available:
3D2N Malacca Heritage Art Excursion
Date: 28-30 Nov 2023
Fee: $420 (u.p $525) for members and first 3 registrants
2D1N Kulai Farm Fun Art Excursion
Date: 6-7 Dec 2023
Fee: $350 (u.p $437.50) for members and first 3 registrants
2D1N Kluang-Batu Pahat Fishing Village Art Excursion 
Date: 13-14 Dec 2023
Fee: $280 (u.p $350) for members and first 3 registrants
 Click here for more info
"I did a travel sketching workshop with Chankerk. He's a great teacher. The workshop was enjoyable and taught me a lot about spontaneous art as against formal drawing and colouring. Something I am not normally good at! I definitely would want to do the real travel and sketch session with him sometime soon."
"Recently, I went in an art sketching trip with Chankerk from My Art Space – it was fantastic! A good balance between sketching and eating at local places that only locals go to in Kluang, Batu Pahat and Malacca because Chankerk was such a good guide! It was so useful to learn the basics of how to sketch outdoors with the scene in front of you, seeing the big pattern, capturing light and shadow, shading and doing it fairly fast or within a limited time. Overall, a totally enjoyable and memorable trip with great lessons and sketches, good company, yummy food, and looking forward to the next trip!"
TAIWAN - SKETCHING, CULTURAL EXCHANGE AND EXHIBITION TOUR
Fee: Twin shared room: for member S$1590/pax, non members S$1690/pax
Not to miss for art and cultural lovers! Follow group of friendly artists and explore the best of Northern and Central Taiwan with your paint brush. Unique experience from watching of musical performance by master in the valley, village cultural walk, meet up with local artists, art exhibition to sketching in various best selected locations will be organised for your greatest immersion of art and culture.
ART WORKSHOP HOLIDAY IN TUSCANY, ITALY
Fee: €1180 double/twin room, €1280 single room
Inspired by the best of Italy. Exciting painting course holiday conducted at a spacious Tuscan farmhouse, with extensive studio facilities and a swimming pool set amid Garfagnana Nature Reserve, near to the medieval town of Barga. An ideal retreat for exploring creativity.
SEKINCHAN SKETCHING ADVENTURE
Fee: S$360 (25% off without workshop)
(Inclusive of 2-3 stars homestay accommodation, Return transport between Singapore-Sekinchan and all designated locations).
Appreciate picturesque landscape and enjoy true fun of sketching at 适耕庄 Sekinchan-a coastal fishing village blessed with fertile soils where a sea of luxurious paddy field takes your breath away. Programs include wharf and paddy field sketching, seafood dining and fireflies watching at nearby Kuala Selangor, one of the biggest firefly colonies in the world, unusual phenomena can be found only in two places in the world.
Fee: S$1188 (10% off for members and first 3 non-member registrants)
Explore the best beauty of northern Vietnam. Bring along your sketching tools and ready to be inspired by epic landscape of Ninh Binh, villages, mountains, paddy field scenery, colourful dress and local activities in the tribal enthic market of mountainous tribes in Sapa Town. A truly artistic experience beyond any art-lover can imagine.
PENANG ART EXCHANGE SKETCHING TOUR, EXHIBITION AND DURIAN FIESTA
Fee: S$380 free and easy sketch, S$180 for optional Magic of Watercolor Sketching Workshop (10% off for members and first 3-non-members)
Package inclusive of 3 night twin room at Maritime Seaview Homestay, local transport, "Penang-Singapore Exchange" Art exhibition, and Durian Fiesta Gala Party.
Wonder how artistic Penang 'Pearl of the Orient' can be under the pen brush of sketch-lovers? Come and meet heartwarming Penang artist Agu-Knife painter, other local sketch-lovers and excite your palate with sweet fragance of durian during this once in a year season in Balik Pulau.
Landed Tour Fee: €1408.50
Workshop Fee: $600 per pax, $450 for first 3 registrants
Join us to discover the beauty of Greece through a series of on-location sketching workshop escorted by professional artist Chankerk. Experience how easy sketching can be by using the simplest tools like pencil, ink pen or watercolor. Explore and sketch various best selected locations in Greece from breathtaking scenery of Kalamata, Polylimnio, Koroni to Methoni. Great opportunity to discover rich and diversified culture of Greece.
READ MORE
Fee: SGD$1100 per person, SGD$933 for members & first 3 non-members registrants.
Understand and immerse into Balinese arts and culture through series of programs like visiting of studio/art museum, yoga session and special arranged Be Bali Day. Learn how to capture beauty of Bali Island through various sketching walks fully escorted and guided by Chankerk on various world famous locations from local market, fishing village, temples, paddy field, waterfall, lake and mountain.
MYANMAR - THE LAST COLONIAL JEWELS OF SOUTH EAST ASIA
Fee: 9 days 8 nights @ S$2450 only (5% off for members and first 3 non-members)
Let's explore this most mysterious and undiscovered nation with your paint brush and sketch. Escorted and guided by our professional artist during various plein air painting and sketching session at best selected locations. Be Inspired by thousand year old religious edifices of Bagan, nostalgic beauty of Yagoon architecture, scenic natural lake of Inle, unique culture of local tribes and the most welcoming people of Asia.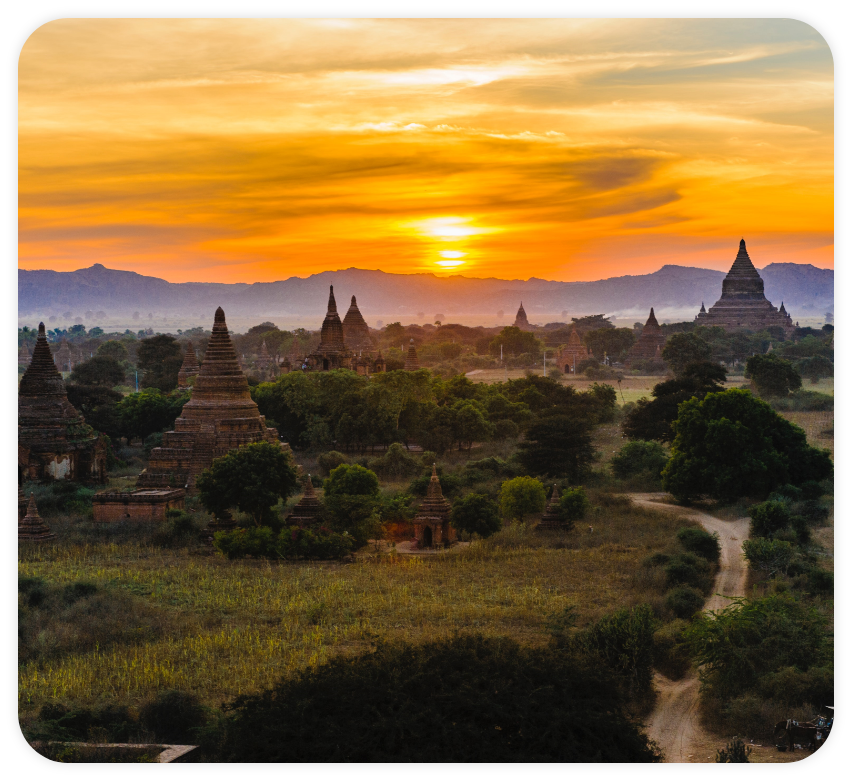 "NO HIDDEN AGENDA NO GOAL TO ACHIEVE WE DO ART AS IT IS AN ENJOYMENT A FULFILLMENT A PASSION OF THE SOUL"