Looking to build a strong foundation or have a breakthrough of your
sketching standard? Come and join this workshop specially designed for serious learners, either your are beginners or amateur artist wish to refresh your learning! Conducted by professional artist Chankerk, a workshop not only focus ion technical gimmicks of sketching, it provides you a complete eye-mind-hand guidance, an approach allows you to relook, rethink and re-understand what the sketching can be.
In this workshop, it will be supported with solid foundation training, follow by further investigations of various connections between craft-art, modernism-sketching art, passive-pro-active observation skills, documative-interpretive, process-product and various eye-opening insight that prepare you to develop your personal sketching styles as true artist in future.
See below information about this session:
Small class size 6-10
Total 12.5 hours:5 lessons x 2.5hours
Fee: $280 inclusive rental of sketching materials set and provision of papers.
10% off for members or first 3 new registrants.
Next intake: 
1 Oct 23, every Sun 1-3:30pm except PH
Limited seats, first come first served.
How to Register
To register or for more info, email us at info@myartspace.com.sg.
---
Syllabus
Lesson 1: Observation, Drawing and Lineworks.
Briefing on teaching methodology.

Introduction of materials.

introduction of creative observation.

Basic sketching exercises to improve hand-eye coordination and interpretative lineworks.

Group discussion, sharing artwork, and providing constructive feedback.
Lesson 2-Forms, Colors Mixing and Watercolour Washes and Mixed Medium.
Introduction of how to easily create 3 dimensional forms.

Introduction to observe and mix colors with great ease.

Exercise to understand paper and brush wetness control, how to apply various types of washes and medium.

Exercise to sketching 3 dimensional objects.

Group discussion, sharing artwork, and providing constructive feedback.
Lesson 3: Perspectives and Space.
Introduction to aerial and linear perspectives.

Introduction to space design in classical and modernism art.

Basic exercise on how to design an interesting space in a sketch.

Group discussion, sharing artwork, and providing constructive feedback.
Lesson 4: Visual Elements and Organization.
Introduction to the visual elements and principle of visual organization.

Basic exercise to learn how to design an sketching.

Group discussion, sharing artwork, and providing constructive feedback.
Lesson 5:Composition.
Discussion on focal point and composition.

Exercise to sketch with an urban scenery with interesting composition. 

Group discussion, sharing artwork, and providing constructive feedback.
---
Learning Outcomes
5 exercises, to build up solid fundamentals of sketching. 

Develop observation and hand-eye coordination.

Gain a  basic understanding of texture, line, form, perspective, and composition in sketch.

Acquire knowledge of color theory and the ability to mix and use colors effectively.

Gain fundamental sketching skills that allow you to practice anytime and anywhere.

Gain basic art appreciation knowledge.

Gain confidence in expressing creativity and personal style.

Improve critical thinking skills by evaluating and providing constructive feedback on artwork.

Gain a calming and therapeutic experience, reducing stress levels.

Foster a sense of personal satisfaction and enhancing well-being..

Social engagement: art  workshops encourage social interactions, reducing feelings of isolation.
---
About the Instructor Chankerk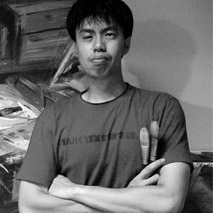 Regional renowned urban landscape painter, Chankerk's work employs energetic, impulsive, bold brushstrokes to communicate a sense of dynamism and fluxus within the context of urbanisation. His paintings are marked by spontaneity and immediacy, informed by first-hand observations. Diffused, abstract depictions of local shop houses, streets and skyscrapers reflect the rapid changes across the Singaporean landscape, rendering familiar scenes as homogenous urban territories.
Chankerk is the founder of My Art Space, conducted various art workshops for all walks of life and has lead art adventure trips from Malaysia, Indonesia, Cambodia, Myanmar, Taiwan, Australia, Sri Lanka to Bhutan. He is the mentor of many emerging artists in Singapore.