Must try for those wish to sketch the interesting people, beautiful scenery or wonderful moment while you are traveling, You will learn intuitive sketching technique. A skills equally useful for serious learners wish to improve their drawing and bring more feeling into their painting.
Step-by-step full demonstration and comprehensive training from equipment and materials, creative observation, ink and wash technique, form and lighting, perspective, colors mixing and how to compose a interesting design will be given by Chankerk in this workshop.
See below information about this session:
FEE: S$65 per lesson (u.p S$100) for first 3 registrants (Inclusive of all paper and rental of all materials)
WHEN: Sun 12:20pm-2:50pm OR Mon 1:30pm-4pm except public holidays.
 Tailored schedule available upon request of min 5 pax.
INSTRUCTOR: Chankerk
Suitable for all levels.
Small group size 5-12 pax. 
Limited seats, first come first served.
How to Register
To register or for more info, email us at info@myartspace.com.sg.
About the Instructor Chankerk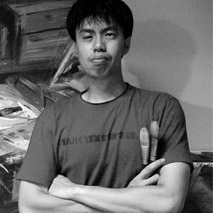 Chankerk has been a full-time professional artist since 2005. Chairman of Sentosa Artists Village (2001-2004), Chairman of Art critique group, Two Right Feet(TRF) (2003-2008), Founder of My Art Space, Chankerk has hold 8 solo exhibitions and 19 years experience in conducting various painting, oversea art tour, art appreciation, creativity and team bonding workshops for all walks of life at Singapore Art Museum, Nanyang Academy of Fine Art and many many more….
This intensive involvement has enabled him to develop an unique and creative learning philosophy, which allows participants to easily understand in-depth and abstract concept of art without feeling puzzled. Chankerk has become mentor for many emerging artists in Singapore.
Past Creative Landscape Painting Workshop
Great fun of our recent creative landscape workshop with Chankerk. Structural step-by-step guidance from drawing, colors mixing, painting process and tons of tips on how to liberate your colors, strokes and texture have been given by Chankerk. Bravo to all all for your active participation.