Looking to gain strong foundation and pick up fundamental skills to create watercolor painting with greatest colors luminousity? Come and join this workshop specially designed for serious learners, either your are beginners or amateur artist wish to refresh your learning! Conducted by professional artist Chankerk, it provides you a complete eye-mind-hand guidance, an approach allows you understand and pick up the skills from fundamentals, application, creative exploration and basic art appreciation that enable you to develop your personal styles in future. 
See below information about this session:
Small class size 6-10
Total 10 hours: 4 lessons x 2.5 hours.
Fee: $240 inclusive rental of watercolour materials studio set and provision of papers.
10% off for members or first 3 new registrants.
Next intake: 
5 Nov 23, every Sunday 1-3:30pm except PH.
Limited seats, first come first served.
How to Register
To register or for more info, email us at info@myartspace.com.sg.
---
Syllabus
Lesson 1: Materials, equipment and Paint Appilcation.
Introduction to watercolour materials:paper, color tubes, brushes, palette, palette and miscellaneous.

Learn how to set up painting station properly.

Exercise to understand how to apply flat, gradient and variegated wash.

Exercise to understand how to apply washes wet-on-dry and wet-on-wet.
Lesson 2: Creative Observation, Drawing and Colors Mixing.
Introduction to perception, shape, proportion and angle 

Introduction to the lighting and form and space.

Introduction to recognise colors and mix the colors

Still life exercise to learn complete process A-B-C.
Lesson3: Perspective and Composition.
Introduction to aerial and linear perspective.

Discussion on layout, focal point and composition.

Exercise on how to create a landscape painting with interesting composition. 
Lesson  4:Peers Discussion  and Painting Refinement and Self- reflection.
Peers discussion on how to adjust the refine the painting.

Rectify and refine the landscape painting with wet-on-dry techniques. 
Reflection on the learning journey and personal growth as painters.

Celebration of completed paintings and accomplishments.
---
Learning Outcomes
2 fundamental exercises plus 2 complete paintings to build up solid fundamentals of watercolour painting.

Gain a  basic understanding of watercolour techniques, form, perspective, and composition in painting.

Acquire knowledge of color theory and the ability to mix and use colors effectively.

Gain basic art appreciation knowledge.

Gain confidence in expressing creativity and personal style.

Improve critical thinking skills by evaluating and providing constructive feedback on artwork.

Gain a calming and therapeutic experience, reducing stress levels.

Foster a sense of personal satisfaction and enhancing well-being..

Social engagement: art  workshops encourage social interactions, reducing feelings of isolation.
---
About the Instructor Chankerk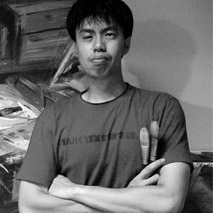 Regional renowned urban landscape painter, Chankerk's work employs energetic, impulsive, bold brushstrokes to communicate a sense of dynamism and fluxus within the context of urbanisation. His paintings are marked by spontaneity and immediacy, informed by first-hand observations. Diffused, abstract depictions of local shop houses, streets and skyscrapers reflect the rapid changes across the Singaporean landscape, rendering familiar scenes as homogenous urban territories.
Chankerk is the founder of My Art Space, conducted various art workshops for all walks of life and has lead art adventure trips from Malaysia, Indonesia, Cambodia, Myanmar, Taiwan, Australia, Sri Lanka to Bhutan. He is the mentor of many emerging artists in Singapore.