My Art
Journey
Total Life.Art.Style
Experience
We have various art programs that allow you to learn, appreciate and enjoy art.
Meet like minded people and pursue passion of art together.
Relax amidst various flora and fauna at prestige Istana Park.
Showcase your art, appreciate and understand art.
Great Learning
Philosophy
We provide personalised guidance that develop your art style in long term.
We have minimum 16 timeslots every week that allows you to choose according to your schedule.
Fulfill social responsibilities through our community art projects.
Art may not change the world but it may change the way we see the world
Sourav Bhowmick
Associate Professor, Singaporean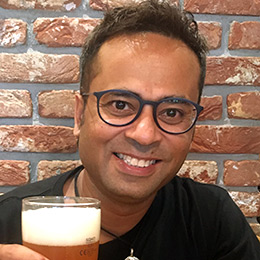 How did you get started in creating art and how does it enrich your life?
I used to mess with water colors, pastels, and sketches when I was a child. In fact, I vaguely remember that I won few art competitions in my locality back then. I also remember that I used to sketch surreptitiously inside classroom when I got bored with the teacher 🙂 However, I stopped painting and drawing when I reached early teen due to academic commitments. Amazingly, I picked it up again in My Art Space after three decades! In fact, this was purely accidental. I happened to visit the now-defunct café in My Art Space regularly to do my work while sipping coffee. My wife, who is a member of My Art Space since then, egged me to prove that it's not all talk and I can really paint 🙂 … that's how it all started again after a chasm of three decades!
Art, in my opinion, complements the life of a scientist. To quote Carlo Rubbia, a Nobel prize winner in Physics: "Science for me is very close to art. Scientific discovery is an irrational act. It's an intuition which turns out to be reality at the end of it – and I see no difference between a scientist developing a marvelous discovery and an artist making a painting."
Please share on your learning experience and what you like about My Art Space
It has been a great learning experience in My Art Space for the last five years! In particular, there are two things that I really like about My Art Space: Art and Space. First, I like the "hands-off" instructions of Shan and Chan Kerk. I have always been an independent learner and I like to explore and solve my own problems since childhood. I don't like any instructor imposing on me. Hence, their style of maintaining literally an arm's length from my canvas (they have never touched my canvas) yet always giving insightful comments to improve not only my paintings but also the way one should look at art go down well with my style. They give me the freedom to explore and find my own style of painting. Second, is the awesome space design of My Art Space. I am not aware of any other art venue in Singapore that is surrounded by glass, water, and greenery. I find this blend of glass and water around myself during painting really therapeutic.
What's your favourite artwork?
So far I have created more than 20 paintings. I am quite attached to my paintings and hence it is hard for me to pick one that is my "favourite". If I have to really choose one from my collection, I will chose two of them. The first one is a portrait of my Mom…it is my favorite naturally because it's my Mom's portrait. It was a stressful effort to make it right! Importantly, it is also my favorite because my Mom likes it too! The second one is an expressionist portrait of Omran Daqneesh, the five-year old Syrian boy who gained global attention after his photo went viral. In my opinion, this photo is a poignant reminder of how cannonballs fired by adults during their war games impact innocent lives of children – something men have never learnt from history.
What are you trying to communicate with your art?
I started dabbing paints on canvas in My Art Space to communicate beauty of nature and human body, as well as portraits of people that matter to me – something that many painters do. In the last three years, I have moved on to follow path less trodden (at least in Singapore) by using art as a medium to communicate on important issues (social or political) that matter to our planet. For instance, I have created a series of paintings related to global refugee crisis that have been showcased in exhibitions and refugee-related events in Singapore to raise awareness and funds.
I am a strong believer of the following quote: "Art may not change the world but it may change the way we see the world". Hence, nowadays I am often inspired to create artwork that may change the way we see the world.
Tell us what plans you have for your art future?
First, I am planning to organize, along with a couple of very talented fellow artists in My Art Space, an exhibition entitled "Global Refugee Crisis: Dylan, Lennon, Suu Kyi, and Putin on Canvas" in March. The aim of the exhibition is to raise awareness of one of the greatest crisis we face in modern times since the second world war. We have created more than a dozen of powerful paintings on the global refugee crisis. We aim to use them as a vehicle to draw attention to this crisis and make the audience ponder over it. Second, after spending almost 3 years on creating a series of paintings related to refugee crisis, I am moving on to my next theme entitled "Save My World". Specifically, I plan to create artworks that focus on problems that plague our planet such as war, climate change, gender inequality, extinction of species, technology obsession, and so on. The goal is to create a dozen of powerful paintings that visualize these challenges. Third, in the last few years I have been primarily exploring a style of painting that is a blend of realism and expressionism. I wish to explore other style of paintings (such as abstract expressionism) and see how it goes. Last but not the least, I am interested in forming a social art group that focuses on creating paintings and organizing art exhibitions on social themes that matter to this planet. So far we have two fellow painters who are interested in this group. We need more painters so that we can have a critical mass to sustain this group. If any member is interested, please feel free to contact me.
To see works by Sourav click here.
All rights reserved by the artist for all images of artwork, please do not duplicate or replicate without permission.
"NO HIDDEN AGENDA NO GOAL TO ACHIEVE WE DO ART AS IT IS AN ENJOYMENT A FULFILLMENT A PASSION OF THE SOUL"